Successful Sectors Occupy IPO Calendar
The IPO market continues its step towards stability in the upcoming week with three impressive deals on the launching pad. Right now, some of the year's hottest sectors are represented on the calendar that ranges from healthcare to an oil and gas entity. Current market conditions have continued to play an integral role in the path underwriters have decided to embark on with respect to future deal transactions.
Unit Partnership Heads Group
At this point, sources tell us that the deal to watch happens to be the limited partnership transaction from Penn Virginia Resource Partners (NYSE: PVR). Underwriters for the recently revised offering include Lehman Brothers, UBS Warburg, Banc of America Securities, Dain Rauscher Wessels and Wachovia Securities. Officials tell us that the transaction is expected to price Wednesday. Unlike most offerings that debut, Penn Virginia is not a growth play. This transaction rewards investors through a handsome dividend and therefore the hitch for this offering is to hold the issue for the intermediate to long-term.

Penn Virginia has all of the tools necessary to succeed in this environment and considering that most deals in the current climate cut proposed structures, this deal is expected to fare well. Initially, Penn Virginia filed to sell five million shares in the limited partnership. Subsequently, overwhelming demand for the issue forced the underwriting group to bump up the number of shares to 6.35 million. As pricing drew closer, Lehman filed another amendment on the transaction by increasing shares to 6.5 million. This time, the anticipated range on the deal was raised to $19.50-$21.50, up from $19.00-$21.00.

The limited partnership was conceived to engage in the management of coal properties in the Central Appalachian region of the United States. According to the United States Department of Energy, in 2000 coal-fired power plants generated approximately 52% of the electricity in the U.S. compared to 20% for nuclear power plants and 16% for gas-fired properties.
Compared with the overall market, the specific performances of some unit trust partnerships that have been formed to own, operate and acquire a diversified portfolio of energy assets has been recently winning over the hearts of Wall Street investors. The bonus here is that when interest rates decline, the fixed mechanism of a dividend makes the attraction of a unit partnership more compelling to new and existing shareholders.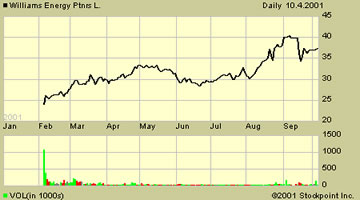 Williams Energy Partners (NYSE: WEG) is the second best IPO in 2001, achieving an aftermarket rise of 86%. Earlier this year, Lehman Brothers led the pricing of four million shares at $21.50. While WEG started off slow, the stock has gained momentum on Wall Street because investors see a huge opportunity to invest in stocks that pay attractive dividends.

With respect to Penn Virginia, the firm plans on a quarterly distribution of $0.50 per unit to the extent it has sufficient cash from operations after paying fees and expenses. If the stock is priced at the high end of the range, the stock will boast a dividend yield of 9.3%.

Shares of Principal Financial Group (NYSE: PFG) debuted Tuesday. Despite a huge share float, the stock rose TK% to $TK. Goldman Sachs (NYSE: GS) led the underwriting which priced shares at $18.50 —Staff Analysts